Score up to 8.5 in IELTS- IELTS training in Port Harcourt - Port Harcourt
Friday, 14 July 2017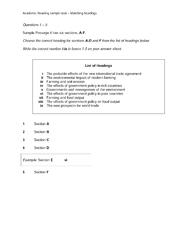 Item details
City:
Port Harcourt, Rivers
Contacts

Mr. Honesty

08096076094
Item description
IELTS is an acronym for English Language Testing System. It is a very technical exam that requires adequate preparation before attempting. The four sections of IELTS are Reading, Writing, Listening, and Speaking. The main weakness of many IELTS candidates is Reading and Listening. The maximum IELTS score is 9.0 and after undergoing our training you cannot score below 7.5. Our worst performing clients score 7.0.
We also give free study materials with past questions and our training fee is moderate and affordable.
Contact us today at 15 Akatali Street, Off St. John junction, Iwofe Road, Port Harcourt. You can also call us on 08096076094.
The picture below is an example of what is called Matching Heading in the Reading section. Everything will be explained to you in our tutorial.